OPENS SEPTEMBER 29TH
–>
CHOOSE YOUR
EXPERIENCE
FIESTA FRIGHT PASS
$17.95
FIESTA FRIGHT PASS
–
ONE ATTRACTION PASS
$22.95
FIESTA FRIGHT PASS
–
NAVIGATE THE HORRORS IN COMPLETE DARKNESS WITH ONLY THE LIGHT OF A HEADLAMP TO GUIDE YOU
$20.95
CALENDAR
RED dates
(General Admission Only)
DECEMBER 22 & 23
7PM – 9PM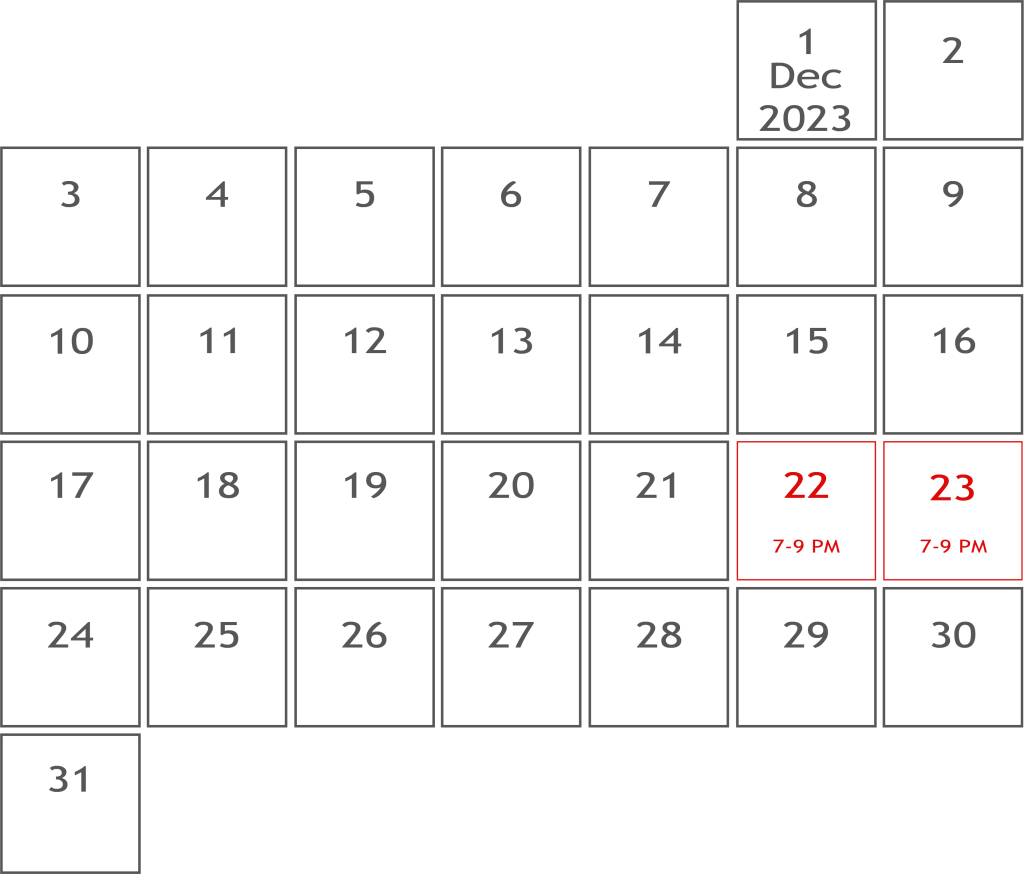 FAQ
How long does it take to go through?
A: The time varies greatly depending on the night and the time that you choose to attend. We try our best to find a balance between wait time and scare time so that you will be able to experience both a short line and a long haunt.
Is Fiesta Fright handicap accessible?
A: No, unfortunately the attraction is 2-story and is not wheelchair accessible.
Will the actors touch us, or can we touch the actors?
A: No, the actors will not touch you. Incidental, unintentional contact may occur. There is a zero tolerance policy regarding guests touching the actors, and anyone who violates this policy will be immediately escorted off the premises.
Can I get a refund if I decide not to go through Fiesta Fright?
A: No, there are no refunds once you've purchased tickets. All purchases are final.
Do you have a lot of strobe lights in the haunted house?
A: Yes. We have many strobe lights and fog throughout the entire haunted house. It is not recommended for people that have epilepsy go through the haunted house. We also don't recommend pregnant women or people with asthma or heart issues go through the haunted house. You can always ask your physician to see if you should go through, however, we just don't want you to get hurt.
Can we take photos and/or videos inside the haunted house?
A: No. Photography and video recording (including GoPros) are not permitted.
Is there security?
A: We have security cameras placed throughout haunted house. There is a security guard both inside the haunted house and outside.
Is there an age limit for Fiesta Fright?
A: Yes, we recommend it for those that are 13 and up. Ages 7 and under are not allowed, and those 8 to 12 must have an adult accompanying them.
Can we be denied access?
A: Yes. We will not allow foul language, obscene behavior, weapons, alcohol, drugs, etc. We reserve the right to refuse admittance to anyone we deem not appropriate for entry. Please use your head!!
I want to work at your haunted house. How do I apply?
A: Please fill out the application here.
CAN WE WIN FREE TICKETS?
A: YES. FOLLOW US ON FACEBOOK AND INSTAGRAM FOR YOUR CHANCE TO WIN! Follow @fiestafuncenter and @fiestafright for chances to win free tickets!
WHY ARE GUESTS ASKED TO NOT BRING THEIR CELL PHONES?
A: WE ASK THAT GUESTS DO NOT BRING IN CELL PHONES BECAUSE OF THEIR DISRUPTIVE NATURE. WHEN A PHONE RINGS, IT DISTURBS THE OTHER CUSTOMERS. THE LIGHT FROM THE PHONE CAN RUIN THE ATMOSPHERE THAT IS BEING CREATED AND THE EFFECT OF SCARES WE ARE PROVIDING. ALSO, CUSTOMERS ARE DISCOURAGED FROM TALKING ON THEIR PHONES WHILE GOING THROUGH THE HAUNTED ATTRACTION. THIS DISTURBS OTHER PAYING CUSTOMERS. WE ARE NOT RESPONSIBLE FOR ANY PHONES BEING LOST OR DAMAGED! DO NOT BRING IN ANY PHONES!